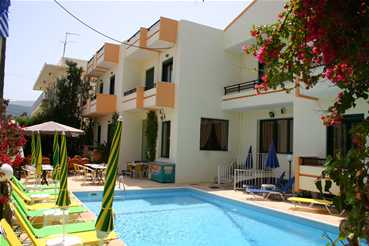 Travelers who end up here seek for something more than a simple, ordinary vacation.
Upon arival, you experience Crete's hospitality as you walk around and meet the wild nature of the island.
Anna apartments is an ideal destination for fammily relaxing vacation atmosphere. The hotel is in a very privileged location as it is in a relaxing and quiet neighbourhood and 100 meters away from a beautiful beach (3km from Rethimno town centre). There are a variety of different room types to choose from as it consists of one, two and three specious bedroom apartments that can sleep from 1 to 5 persons. The rooms are self catering (fully equipped kitchen) and breakfast is also available up to 12:00 pm (not included in price). All rooms are equipped with safe, air-condition and 20'' LCD TV's offering satelite and conventional channels.
The hotel also offers a first class bar and a beautiful garden with a swimming pool. In addition, there is also a play room which consists of a billiard and table tennis (table tennis is offered free to all customers). Furthermore, separate shower and changing rooms are available to all customers at any time. Finally, since Anna hotel apartments is a family based business it is guaranteed that the service is very good and also the owners see their guests as friendly quests and not as clients. high comforts and area ....The hospitality of the Landlords and the taste with which villas have been decorated, will make you visit us again and again...